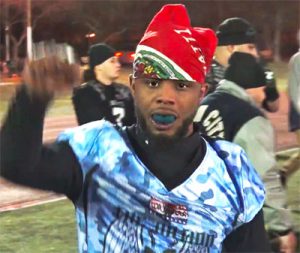 Ron Clerc Profile & Video

Q: Where did you play college football?
Yes, West Virginia Tech. I was a running back over there, I went from 8th string to 3rd string, and I did well until I got hurt. Basically, they took my scholarship away because a new coach came in and gave the scholarships to graduating seniors from his old high school, so without a scholarship I had to leave school. I found a job and started to work, one of my friends introduced me to A7FL and I stuck with that and working.
Q: Why did you start playing American 7s Football?
A: Because there was no the option for me to play football. I was hurt I college so it took time to recover and started playing American 7s Football because my friends introduce me to it. A7FL kept me in shape, I love the sport, and in my opinion less injury than from pads.
Q: How did you do in in high school?
A: I was a straight B student and I tied vey had to do good in school to not get in trouble. I was trying to find a college to go to and had the choice of Univ. of Delaware or West Virginia. West VA contacted me back fist and so I decided to go there.
Q: What do you want to do with your life after your football career is over?
A: I'd like to be a coach and continue to be a part of and give back to the game.
Q: How does A7FL fit in with your family, home, and work life?
A: Sunday, no matter what happens I am playing football. Sunday is me time. My family and friends support me at all my games on Sunday. And even though I have work on Monday morning, I'm out there for my love of the game.
Q: What separates you from the other players at your position?
A: I stick out because of my size, big hits, my tackling, almost everything I do on the field I stick out. I try to be the best at whatever I do.
Offense
| Season | Team | Comp | Att | Yds | Rec | Rec Yds | TD | Int | Lng | Fum | G | GS | Avg | Rec Avg |
| --- | --- | --- | --- | --- | --- | --- | --- | --- | --- | --- | --- | --- | --- | --- |
| 2017 | NJ BIC | 0 | 0 | 0 | 0 | 0 | 0 | 0 | 0 | 0 | - | - | - | - |
| Total | | 0 | 0 | 0 | 0 | 0 | 0 | 0 | 0 | 0 | 0 | 0 | 0 | 0 |
Career Total
| Season | Comp | Att | Yds | Rec | Rec Yds | TD | Int | Lng | Fum | G | GS | Avg | Rec Avg |
| --- | --- | --- | --- | --- | --- | --- | --- | --- | --- | --- | --- | --- | --- |
| 2017 | 0 | 0 | 0 | 0 | 0 | 0 | 0 | 0 | 0 | - | - | - | - |
| Total | 0 | 0 | 0 | 0 | 0 | 0 | 0 | 0 | 0 | 0 | 0 | 0 | 0 |
Defense
| Season | Team | Sacks | Tackles | Comp | Att | Yds | Rec | Rec Yds | TD | Int | Lng | Fum | G | GS | Avg | Rec Avg |
| --- | --- | --- | --- | --- | --- | --- | --- | --- | --- | --- | --- | --- | --- | --- | --- | --- |
| 2017 | NJ BIC | 0 | 0 | 0 | 0 | 0 | 0 | 0 | 0 | 0 | 0 | 0 | - | - | - | - |
| Total | | 0 | 0 | 0 | 0 | 0 | 0 | 0 | 0 | 0 | 0 | 0 | 0 | 0 | 0 | 0 |
Career Total
| Season | Sacks | Tackles | Comp | Att | Yds | Rec | Rec Yds | TD | Int | Lng | Fum | G | GS | Avg | Rec Avg |
| --- | --- | --- | --- | --- | --- | --- | --- | --- | --- | --- | --- | --- | --- | --- | --- |
| 2017 | 0 | 0 | 0 | 0 | 0 | 0 | 0 | 0 | 0 | 0 | 0 | - | - | - | - |
| Total | 0 | 0 | 0 | 0 | 0 | 0 | 0 | 0 | 0 | 0 | 0 | 0 | 0 | 0 | 0 |