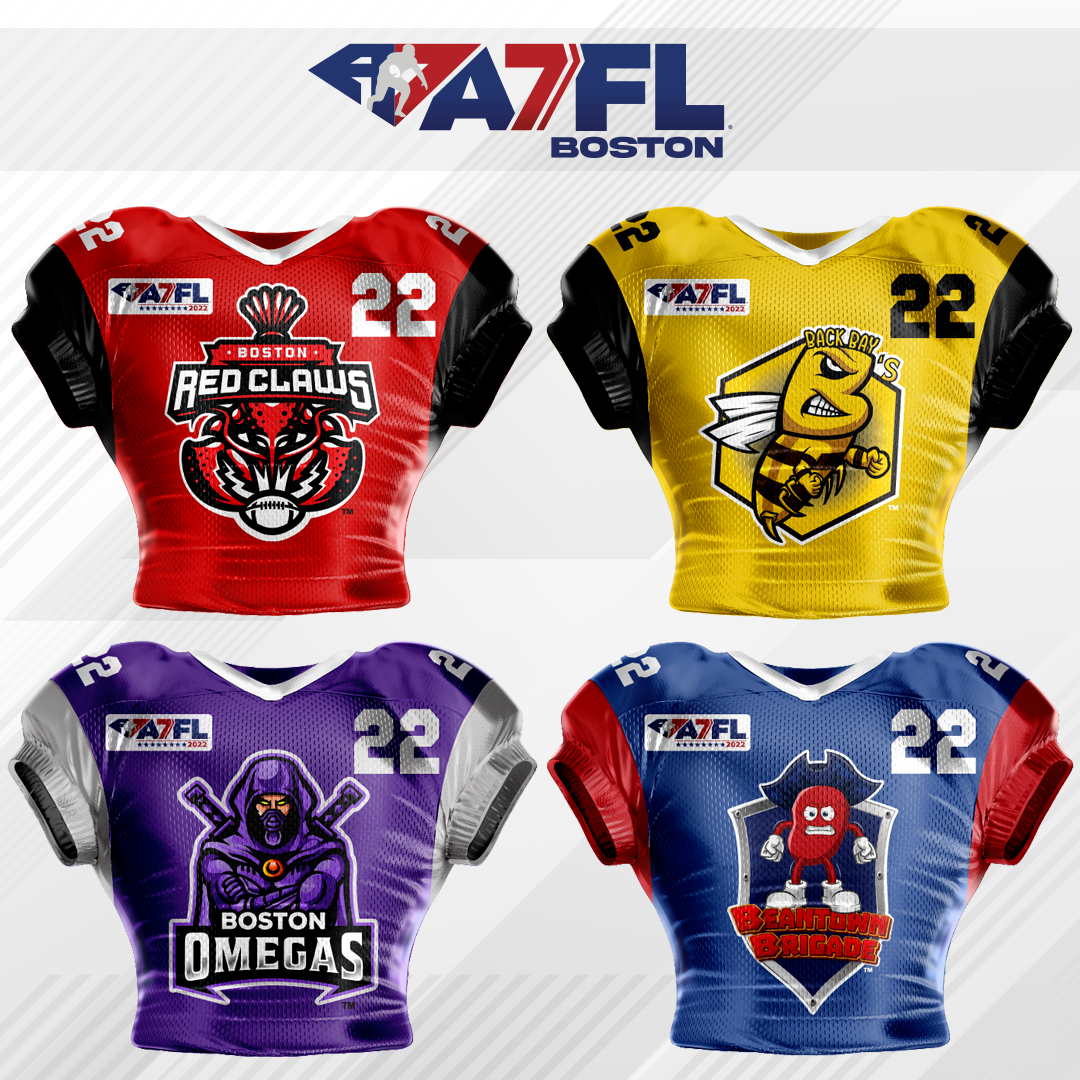 2022 A7FL Season to Feature 36 Teams Competing for $50,000 in Prize Money
The rapidly growing 8-year-old American 7s Football League has unveiled some of its newest teams preparing to take the field in Spring 2022. For the A7FL's Boston Division, helmed by entrepreneur Denzel White, these 4 teams look to the area's rich football and sports legacy to revolutionize the A7FL's "smash-mouth" style beginning next season.
Based on New England's love of crustaceans from the deep, the Boston Red Claws also represent the tough to crack exterior of the Boston area both on and off the field. "No doubt Bostonians love their seafood," said A7FL Marketing Director Howard Sadel. "But they're also tough as nails and as resilient as they come."
The Back Bay B's will also launch next season and be looking to crack those shells. "The Killer B's have a long tradition in area sports," said A7FL Marketing Director Howard Sadel. "But we also noted that the Boston Bees were a team name, now long gone, chosen by the people of Boston in 1936 for their then National League baseball club. Tapping into our new market's rich history, no matter the sport, was a top priority for us"
And while the taste of victory will be sweet for whoever wins the A7FL Championship this season, the Beantown Brigade will be anything but sweet to their opponents when they step onto the field this April. Tapping into the region's Revolutionary War roots, the Beantown Brigade will look to march down the field and unload an artillery of offensive might against any and all who battle them.
"Boston is one of the most intense cities on planet earth with an involved but demanding fan base," said A7FL Producer Matt Ryan. "We wanted to represent that through the Brigade, and yes, their mascot is an angry Bean. A team always ready for whatever happens."
The Boston Omegas name pays homage to Boston's rich collegiate tradition of fraternal organizations. As the last letter in the Greek alphabet, Boston Division owner White added, "We named this team the Omegas to symbolize the end of all other A7FL divisions' hopes of a championship in 2022 and beyond."
With so many new divisions and teams launching for 2022, fans should get ready for a steady stream of exciting announcements!