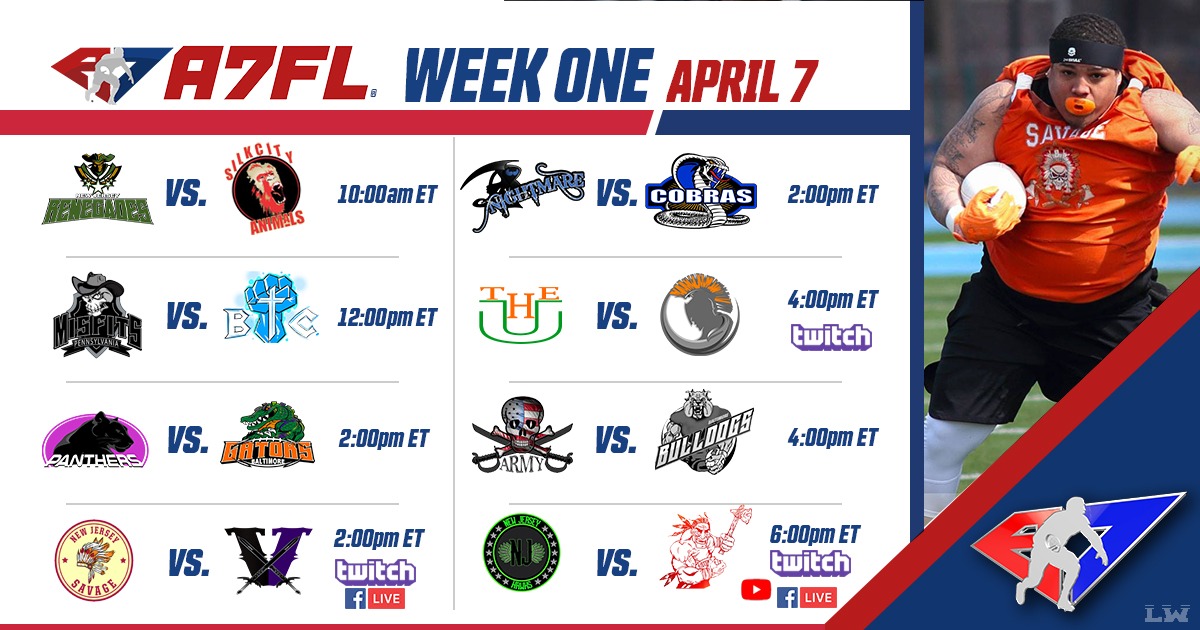 Exclusive Interactive Broadcast Launches with April 7 Season Opener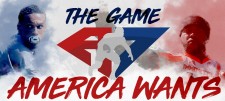 BOCA RATON, Fla., April 5, 2019 (Newswire.com) – ​​​​American 7s Football®, the pioneering no-helmets, no-pads, full-contact tackle football league, today announced an extensive livestreaming partnership with Twitch, the leading service and community for multiplayer entertainment. For the A7FL's upcoming 2019 season, two live games per week – featuring exclusive interactive content and functionality – will air on A7FL's Twitch channel: Twitch.tv/A7FL.
The season and A7FL Live on Twitch kicks off April 7 with the Baltimore Vikings taking on the New Jersey Savage at 2 p.m. ET/11 a.m. PT followed by the Pennsylvania Immortals on the road against the Paterson U at 4 p.m. ET/1 p.m. PT.
The A7FL has pioneered a completely new football format – 7-on-7 without helmets or hard-shell pads – that provides the toughness and excitement that fans love while significantly reducing concussions and other repetitive head impacts. Not only has the league proven to be safer for players, but it's also a hit with fans. In just the last two seasons, the league has grown from 16 to 22 teams and to over 500,000 social media followers and 100 million video views with live games distributed both online (including Facebook Watch and now Twitch) and via national cable TV (ELEVEN Sports and Right Now Television).
Now entering its fifth season, the A7FL has drawn tremendous press coverage from outlets including Sports Illustrated, The Sporting News, Bleacher Report, and ESPN. "A7FL is quickly becoming a major sports and entertainment franchise," said A7FL co-founders CEO Sener Korkusuz and President Ryan DePaul. "We're excited to build on this traction by partnering with Twitch to empower its community via Co-Streaming to help us create a football league designed for the 21st century."
"Partnering with Twitch marks another milestone in A7FL history," said David Isaacs, A7FL Advisory Board Chairman and co-founder of The Ultimate Fighting Championship®. "It's amazing to see such a young league progress from a viral sensation to a mainstream sports property." The A7FL recently secured sponsorship development and merchandise deals with Marqtivate LLC and counts 2nd Skull, Athlete Intelligence and TimTam amongst its sponsors.
About A7FL:
Headquartered in Boca Raton, Florida, The American 7s Football League promotes full-contact 7-on-7 football that – counterintuitively – reduces repetitive head injuries and concussions by getting rid of pads and helmets. Established in 2014, the A7FL has over 500,000 social media followers and 100 million online video views and has grown to include 18 teams across New Jersey, Pennsylvania, Maryland and Washington, D.C. For 2019, the A7FL season opens on April 7 and runs through July 19 (league championship). For more information, call 561-877-0992 or visit A7FL.com.
About Twitch:
Launched in 2011, Twitch is a global community that comes together each day to create multiplayer entertainment: unique, live, unpredictable experiences created by the interactions of millions. It brings the joy of co-op to everything, from casual gaming and world-class esports to anime marathons, music and art streams. Twitch also hosts TwitchCon, the biggest community event of the year, where tens of thousands of people come together to celebrate and connect with others who share their interests and passions. We're always live at Twitch. Stay up to date on all things Twitch on Twitter and on our blog.