Three former NJ high school football stars making a big impact, Part-3 takes a look at Khaleel Greene.

By Corey Annan
A7FL's growing popularity has attracted top former high school and college athletes, which has elevated the competition level to new heights. With the 2021 season fast approaching, here's an introduction to a few of our young stars to keep an eye on this season.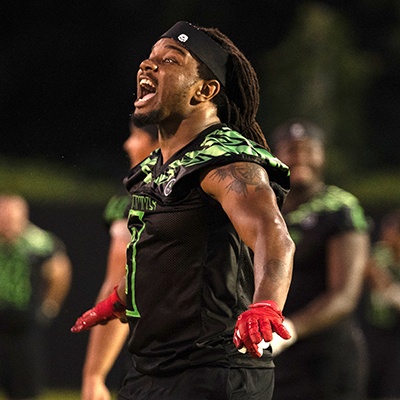 Khaleel Greene
Age: 23
Height/Weight: 5'8, 180 pounds
Position: Wide Receiver/Kick Returner
Team: New Jersey Hawks
Favorite Player: Priest Holmes
Along with having an explosive running back in Mike Liberti, the Hawks also have one of the best receivers in the league in Khaleel Greene.Greene started his football career as a standout player at Toms River South High School at running back and safety. There he racked up 27 career touchdowns and earned all-county and division honors his junior and senior years.
A true two-sport athlete, Greene went on to play football at Wesley College, where he hoped to play basketball as well. However, the football coaching staff had other ideas, and pushed Greene to focus solely on football.
Clearly not in the right environment, after playing in only one game for Wesley Greene left to chase his basketball dreams at Ocean County Community College for two years. While a professional basketball career didn't work out for him after college, his football playing days weren't over yet.
Greene was introduced to the A7FL by a friend. Greene immediately noticed how many former high school and college athletes were making a name for themselves in the new league and then saw the league's highlights on social media, which sealed the deal. He signed up and hasn't looked back.
Now entering his third season, Greene has become not only a star player but also a big fan of the A7FL. "This league is probably the best men's [football] league around," Greene said. "The creativity from teams within this league is simply amazing. I plan to get myself a team in the future."
While not the biggest receiver on the field, Green makes up for his lack of physical stature in myriad ways. He possesses explosive speed combined with excellent agility, which allows him to get open in the secondary.  Plus, he's excellent at creating separation between himself and defenders. This skill set creates an opportunity for a big gain every time the quarterback targets him.
With all that he brings to the field, it's no surprise that his A7FL stats from last season were equally as impressive. He  racked up 6 touchdowns in just 4 games, with 3 coming as a wide receiver and 3 on throw-off returns. He also led the league in return yards with 453.
The Hawks took full advantage of Green's skill sets, utilizing him on screens, drags, fly routes, and more as he played a crucial role in their offense. While opposing defenses have tried to key on him, that strategy has opened more opportunities for his teammates. "I feel like the defense we face will always have to pay attention to where I am on the field," Greene said. "It helps spread the defense out."
Along with Mike Liberti, Greene is a very vocal leader for the Hawks. Sometimes these strong personalities can butt heads on the field.
"Liberti is a good dude, we've almost clashed and fought on our sideline but I expect nothing less from two great competitors," Greene said. "Ever since that moment, we've only gotten closer and worked harder together. Mike is my brother now."
The respect between the two players is mutual, as Liberti has enormous confidence in Greene on the field.
"We almost [came to blows] because we are both passionate players and it's shown on the field," Liberti said. "Khaleel is a beast. He makes things happen when you don't expect something to happen."
Greene's resiliency on the gridiron has also impressed Liberti.  "He has a next play mentality," Liberti said. "I've never seen him put his head down or point fingers. He's a great teammate, and I consider him a brother."
Make sure to tune in on April 11th for the start of the A7FL 2020 season, and follow us on social media platforms for more American 7s news and highlights.